The Networking Method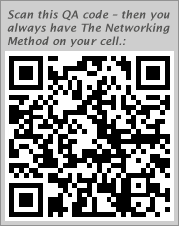 How to use the method
Step: Define your goal
Step: Define your part goal areas – you can always divide it into two:
1. What knowledge do I need
2. Which contacts can give me or help me get that knowledge.
It' s the part goal areas you can approach your network regarding.
Step: Look in your network (which you have mapped) and find the relevant contacts.
Step: Contact the relevant contacts asking them for a network meeting or good advice on how you can find the knowledge and contacts you are seeking.
Example:
Goal:
I am looking for at new job within Finance.
Part goals:
1. Knowledge about the development within the finance area, which companies are focused on changes in their finance area, which competencies are in focus when companies hire new finance capacities etc.
2. Contacts, direct who has knowledge about the area, indirect who knows somebody who has the knowledge or general who has a big network that can lead you to relevant contacts
Look in your network and choose the relevant contacts, you assume can lead you in the right direction.
Approach the relevant contacts in your network and ask them for a meeting, advice or a contact and use what you get to dig up new job opportunities.
I advice you to work in two tracks:
Exposure: Tell your network about your target areas
Expansion: Get new contacts through your network who can help you get the knowledge and contacts you are looking for
Carry out both physical networking meetings/activities, use the social medias and participate in other networking activities.